Why is the knee angle important?
Considering the correct knee angle when determining the stattel height is very important as it affects efficiency, power requirements and comfort. Elite riders should use a significantly different angle than beginners to get the best bike fit for their individual needs. Therefore, there is no perfect knee angle, rather it is a specific and personal adjustment influenced by the rider's flexibility, fitness level and goals, and other factors. Knee angle can be measured in several ways. We measure it at the 6 o'clock position in the active state, as a static measurement does not give the same result.
---
What to Choose:
On the right side you will find a table that can help you determining your approximate knee angle. As a rule of thumb, the more flexible (what does flexible mean?) and experienced the rider, the longer the distance between the saddle and the pedal should be, i.e. the greater angle A. For less experienced riders, the opposite applies.
The average value in each category is suitable as a starting point
Chart Guide (Discipline & Catagories):
Race: Well-trained riders who want to continue to improve their performance and have the physical requirements to ride in this aggressive position.
Endurance: This will be for most riders and generally a good place to start.
Comfort: For newcomers but also for riders with limited flexibility or previous injuries.
Please understand without a proper bike fit this chart is used as a
GENERAL GUIDE
.
There are many factors that would need to be considered to dial this figure in. Our Bike-Tailors are happy to help you find the perfect settings.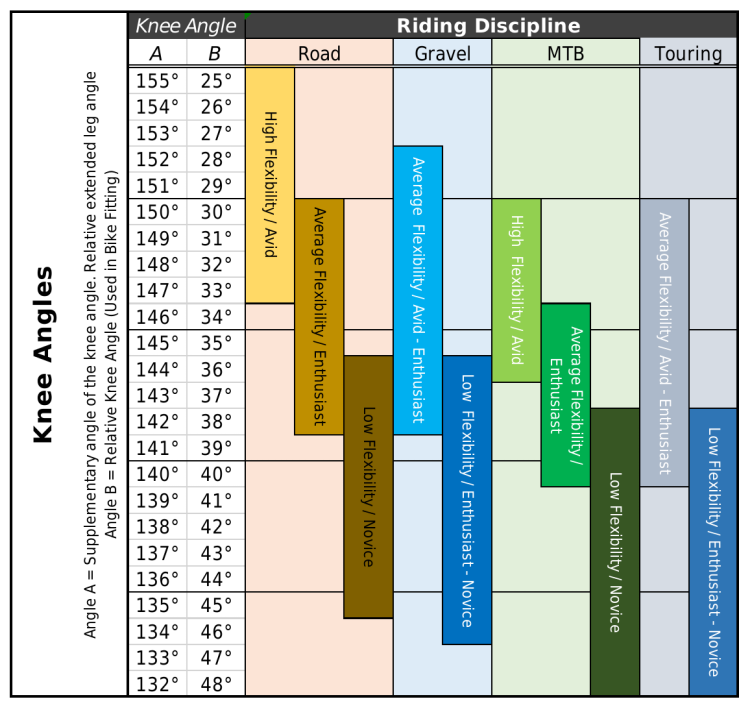 [Click to Enlarge]